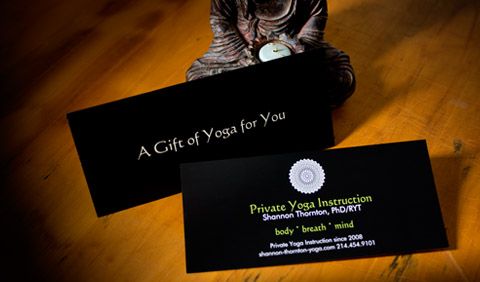 Now Available: Private Yoga Gift Certificates
Introduce a friend or family member to the benefits of private yoga and save $10 off my normal session rate. Individualized yoga instruction is available in Dallas, Lakewood, the Park Cities, Deep Ellum and Addison/North Dallas.
*Single 1-hour Private Yoga Session: $75
*Two 1-hour Private Yoga Sessions: $150
* This pricing applies to the purchase of gift sessions only for new students ($15 off my regular rate of $90/session.) Please contact me about group/small class rates!
NOTE: An additional $10 may apply to cover time/mileage for sessions outside a 10-mile radius.
CLICK BELOW TO PURCHASE:

Check out with PayPal – safe, secure, and no account is necessary.
Single 1-hour Private Yoga Session for $80: 
Two 1-hour Private Yoga Sessions for $160:
Gift certificates will be delivered to you via email. If you would like a printed gift card with envelope (image at the top of page – gift card measures 4″ x 9″ and comes with a coordinating black #10 size envelope), just reply to the confirmation email with the recipient name and the mailing address (for purchaser or recipient) and I will mail you a glossy printed card and envelope at no additional charge.