I stumbled upon this book at the library one day in between appointments. In this thoughtful, sensitive and well-written work, Melissa Grabau, psychologist and yoga teacher, looks at eating habits and eating disorders from a yogic point of view.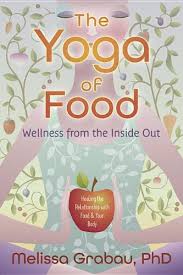 What do I mean by "yogic point of view?" You might be thinking this is a book about Ayurveda and food for the doshas. It is not. Instead, it examines and explains Yoga philosophy and its understanding of the subtle or energetic body relative to our food habits and body image neuroses. In that, it is an excellent introduction to (or refresher for) the concepts of the kleshas, samskaras and the koshas (or very simply, obstacles, habits, and layers of the body).
While written primarily for those looking to free themselves from eating disorders and negative body image – there are a lot of painfully relevant case histories from Graubau's practice – there is still much to gain from applying the principles of witness mind or "higher self" and compassion. Maybe there are some small shifts you've been thinking about making in your relationship with food and drink. Our yoga practices naturally bring our attention to care of the body and to a deeper consideration of what we are literally putting into it. The author encourages us to take the longer view of our lives (when we are often primed for impulse), and to take the often challenging first steps toward more conscious and healthy habits by developing a deeper relationship with the Self through yoga, breathing (or pranayama) and meditation. Graubau's book succinctly explains what can be mystifying concepts in yoga philosophy and combines that adroit understanding with practical, manageable exercises and tools for reflection. Highly recommended for your growing yoga library!