Why you should consider private yoga instruction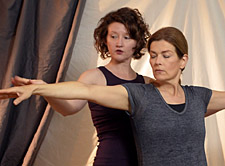 Private yoga puts you together with an instructor who can address your individual needs and goals. It is also an effective way to develop and sustain a personal, home-based yoga practice, something many students who only attend classes can often find challenging.
In one-on-one sessions with your instructor, your unique abilities and limitations are the sole focus. In an environment without the distractions of a studio or class you can better focus your attention, more deeply engage the integration of body, breath and mind and directly address any and all specific questions about your practice that arise.
You can read more about my experience and teaching philosophies on this page.
Additional information
Private yoga instruction can take place in your home or office.
If we decide to work together in your home, you should clear a comfortable, clean, airy, uncluttered space that will accommodate two yoga mats. The space should be free of distractions such as pets, people, traffic and telephones for the duration of our session.
Group Instruction/Corporate
A clean, airy, comfortable well-lit space is most suitable for conducting group classes. A large training room or office for example, with space enough to accommodate yoga mats for all students.
Alternatively, private group classes can be taught at my home studio located near Fair Park/Deep Ellum in Dallas.
A standard release of liability waiver is required before instruction begins.
Download the liability waiver in PDF Format. I will also bring extra waivers to group classes.
CANCELLATION POLICY
I do not have a formal cancellation policy as such. I do ask that you please notify me the day before of any need or intention to miss our scheduled appointment.
If something comes up and you have to cancel on the day of our appointment without a reschedule to take place 1) before your next weekly or bi-weekly session or 2) before the end of your pre-paid package of classes, please think of my time and if your circumstances allow, compensate me at the level you see fit. Financial situations are widely varying, which is why I've hesitated to institute anything formal, or that would inhibit your commitment to your practice and our ongoing work together. I do my best to honor our agreed upon schedule and ask that we both respect the "this is my livelihood" aspect of our arrangement. (I'd be a bad business person not to, right?) The amount doesn't matter to me. In the long run, it's about establishing routine and sticking to it so that I don't have to have a formal policy.
Again, there is a very narrow window for considering compensation for canceling: last-minute and without a reschedule. I'm not out to make money on last minute emergencies. A cancellation "fee" to me is symbolic of the importance of our mutual commitment. In the end, it's there so that it never has to be applied.